Today, like most of the world, Art Studio 928 paint parties and classes are taking place in a Zoom room! A-Zoom virtual paint and sip is much different than an in-person, 3D paint and sip.  Why? Because you can SEE everything that much better, at least with our multiple camera angles and zoom features.
Fortunately, we've been Zooming since 2017 so we have a few tips to ease your mind about virtual events.
First and foremost, be ready to have fun! It's not complicated to join a ZOOM room. Just click on the invitation link, enter the password, and wait to be escorted to your virtual seat.
It's a party, dress up if you like. Or not. But your friends and guests do like
to see you and so do we!
Do your very best to arrive on time.
(Instructors won't be able to repeat what everyone else in the class has already learned.)
Settings and Preferences (you'll find all your Zoom features here)
Check that your camera and sound are OFF before you enter.
Know where your camera is pointing!
Ensure your camera is at eye level.
If there are loud echos, weird feedback, tv or background noise, mute yourself. (Assume any feedback is YOU until your host is able to troubleshoot.)
Sit near a light source so your face and painting can be seen at the end of the class, we always take a group pic.
Assume that the microphones are live when you enter!
Use the chat feature if it seems the instructor cannot hear you.
Don't miss out on the group interaction! If your background is a mess use Zoom's "background" feature under "settings".)
You could use a Grecian beach like in the photo above!
And that's it! Show up and have fun, see you soon! What?  You've never been to a virtual paint and sip?  You're missing out!  Find out more here.
Let's Get Started
Ready To Make a Real Change? Let's Build this Thing Together!
Summary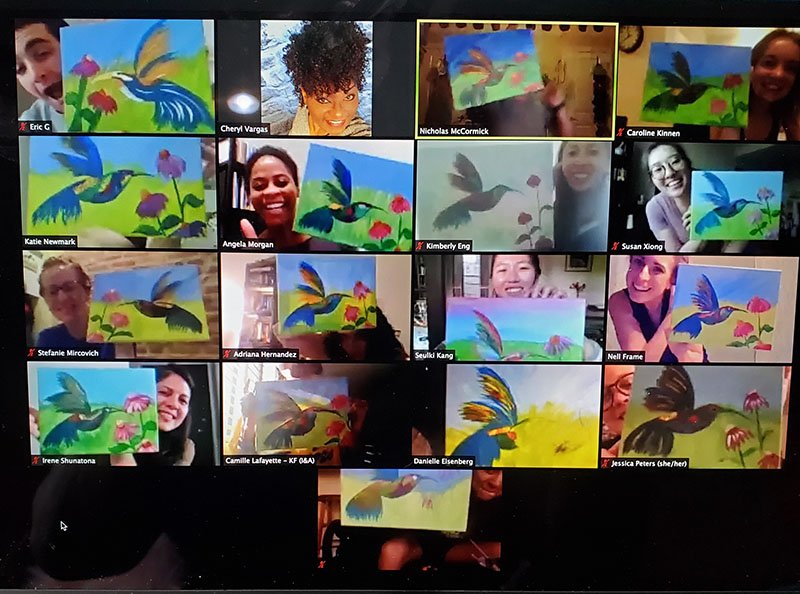 Article Name
Tips For a Fun, Problem-Free Zoom Virtual Paint and Sip
Description
Basically, you can show up with your glass of wine and paint in your pajamas! But these days, that's the NORM! So why not switch it up a little bit? NO? OK, well at least know about Zoom's enhancement features under "Preferences>>Settings" to give the ILLUSION that you put forth some effort. LOL So here are just a few tips.
Author
Publisher Name
Publisher Logo