Art Team Building Activities
Our art team-building activities draw on the innate desire to create, connecting colleagues through the shared therapy of art while actually teaching traditional art techniques. You can even sweeten the deal by shipping wine to your team!
Art Team Building Activities
They calm, relax and boost morale and creativity!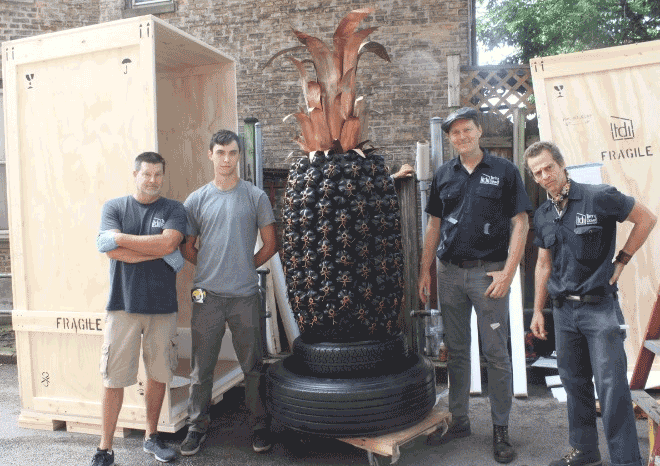 Image: A 9-foot pineapple is a symbol of "hospitality" for this global corporate relocation company. Case Study here.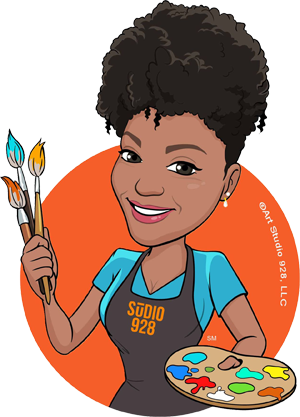 A Team-Created Cultural ARTifact
A piece of team-created art serves as a cultural artifact, reflecting the essence of the organization's values, identity, and shared experiences.
A team created cultural ARTifact fosters a strong sense of ownership and pride among employees. When individuals contribute to a shared artistic creation, they feel a deeper connection to the company and its values. This shared sense of ownership can lead to increased employee engagement, loyalty, and a stronger commitment to the organization's success.
Please note: The cultural ARTifacts we create vary in size and are project-based, created through a strong collaboration with a Studio 928 artist. Additionally, the time to complete the project varies depending on its vision and objectives.
Pictured: The Bristol Global Mobility 9 ft Hospitality Pineapple created from recyclable and renewable materials.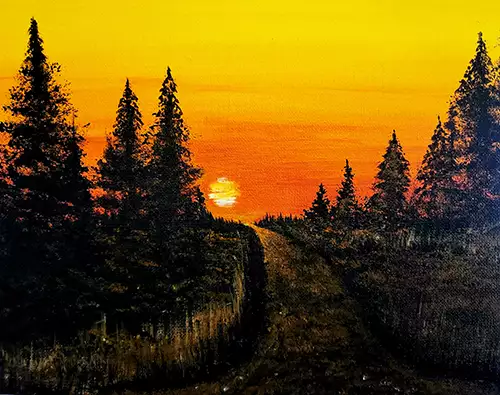 "Virtual or Your Location" - Paint and Sip Team Building Activities
Perhaps its to onboard new employees or to celebrate completion of a project, or even to celebrate a holiday! Paint and sip with us virtually or in-person with your team, we'll even SHIP WINE if you choose!
Select a fun image to delight your team! Our multiple camera angles ensure every seat is a great seat. We provide on-screen trivia and your company logo to welcome everyone!
You'll get everything needed to paint and sip and have a special time together.
We supply a video recording of your event and team photos to share.
Our art boxes ship internationally so you can connect and engage with remote teams.
An EXCELLENT experience for teams to WIND DOWN and connect across the miles.
Deck the Walls with Team Art!
Is your team returning to the office? Get a free office makeover with this merry-making class, where colleagues can create colorful canvases to decorate their working environment. 
Did you know that color can have a significant impact on employee performance? Green has a calming effect, while red inspires collaboration, and blue can boost energy.
Meanwhile, engaging in art itself has also been proven to support brain health, improve clarity, and enhance problem-solving skills.
What does this mean for your team? A more inspired, engaged, and connected workforce!
We guide you through a color and design process to create the mood and communicate the sentiments that embody your team, like Courage, Innovation, Unity, and Leadership, YOU decide! 
Using techniques to bring your team together over a custom, creative theme, our professional artist will provide personalized instruction.
Perfect for holidays, onboarding and celebrations, THIS class is painting in the abstract in colors that march to the beat of your collective drum.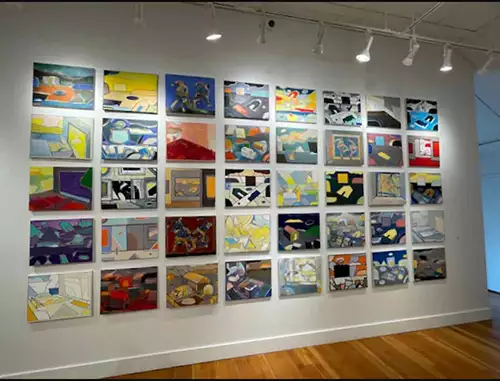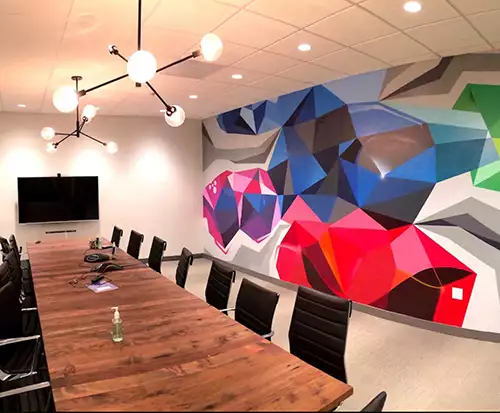 American Grafitti Team Building
Straight from the walls of Wynwood in Miami, this class is inspired by the edgy creativity of all-American street art. Complete with cool music to set the tone for a stress-free experience, each colleague will contribute to one large piece of art. 
Each artwork is pre-designed by an experienced artist, then transferred to wall or canvas. Your team is then free to enjoy the immersive, meditative and therapeutic benefits of painting, with less of the creative pressure that comes with it. 
This is the ultimate activity for engaging while boosting happy hormones and creating genuine connections between colleagues. This class brings everyone together over a unique and rewarding experience.
Make no mistake, this experience spells U-N-I-T-Y.

Mimic the Masters™ - A DEI Art Team Building Activity
Dreaming of a more diverse and harmonious workplace? Mimic the Masters™ is one of the best art team-building activities for inspiring empathy, understanding and building awareness. 
Challenge your colleagues to mirror famous masterpieces from the past, including works from Harlem Renaissance artists such as Jacob Lawrence and Joseph Holston or women artists like Frida and Georgia O'Keefe, Dali, and more.
Your experienced host will help them master classic techniques while recounting profound storytelling of historic innovation and unity through art.
Wine, creativity, and inspiring art trivia are a winning combination, for an eye-opening experience that shares a powerful yet poignant message.
Perfect for when you need to provide a little creative boost, this class builds on the perseverance of past prodigies to cultivate a new culture of diversity, equity and inclusion for the future.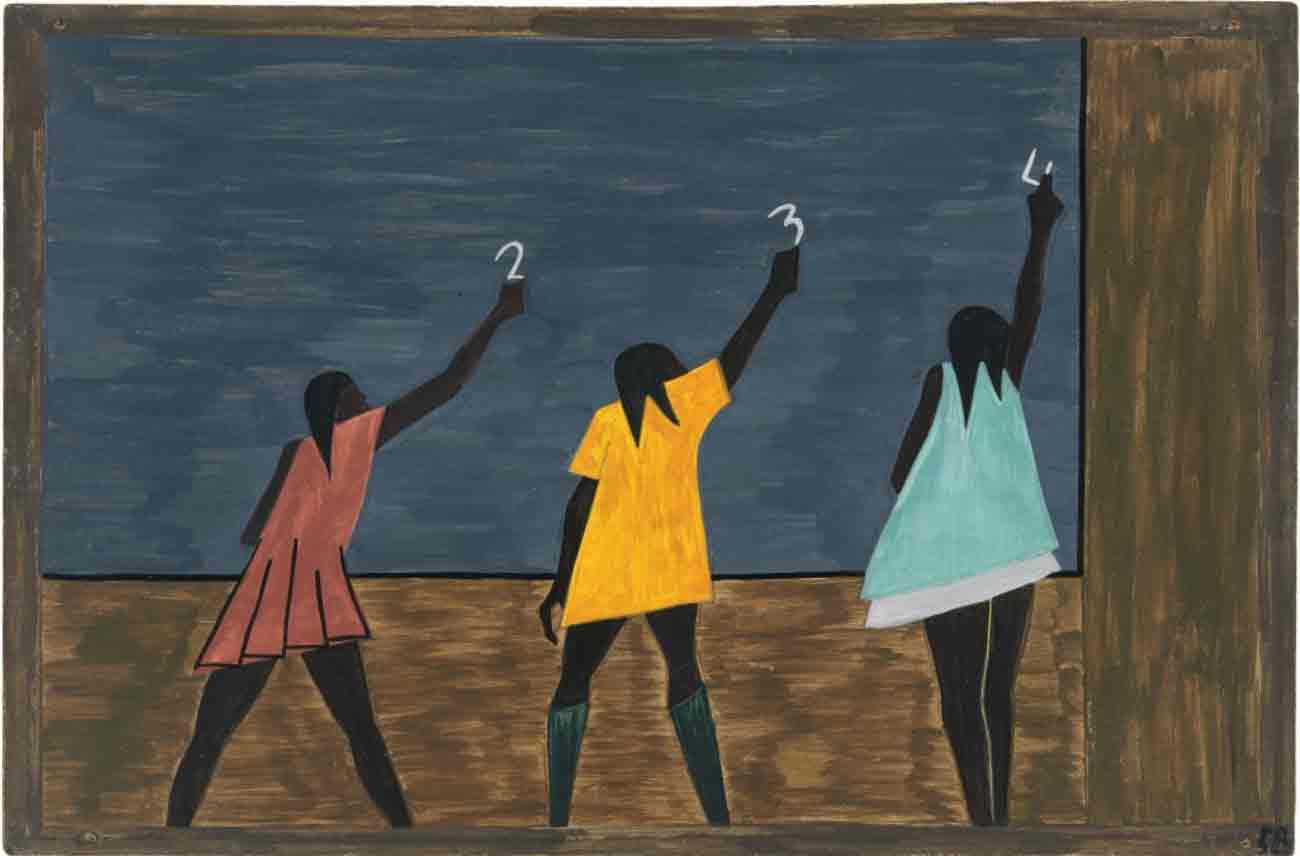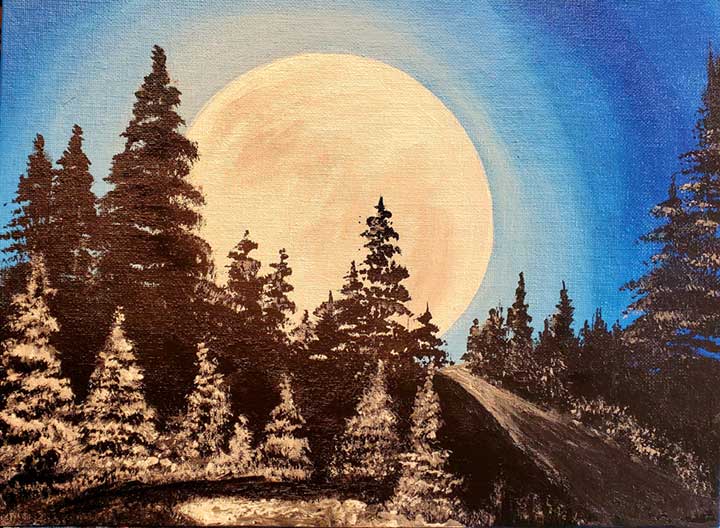 Virtual Team Landscape Painting Activity
Just say "Happy Little Trees" and immediately folks know you're talking about the zen master, Bob Ross.
Talk about calming and soothing! Mr. Cool didn't even know how innovative he was at the time.
While we don't wear the fro and blue jeans, we've been told that we succeed in channeling his user-friendly painting style and warm demeanor.
You'll choose from our Bob-styled masterpieces with art supplies that wouldn't be complete without his signature fan brush.
This is an EXCELLENT experience for teams and their leaders to WIND DOWN and to connect across generations.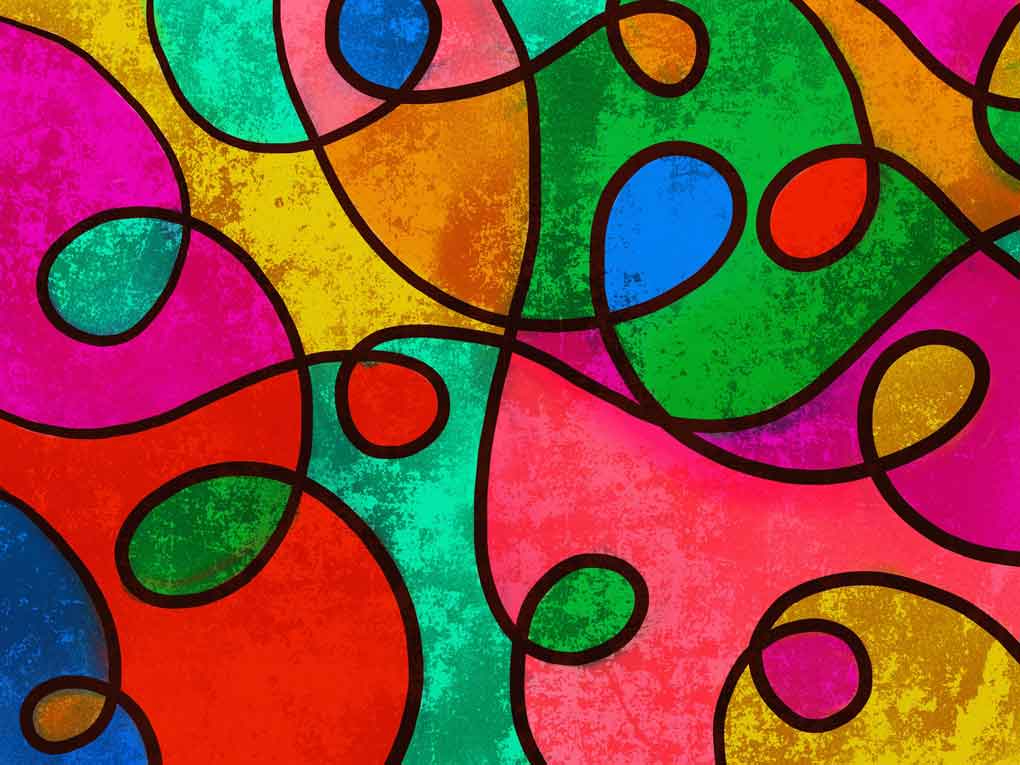 The Leadership Palette (TM)
A unique team-building experience led by artists and leadership experts.
This 3-4-hour event will challenge your team's collaboration, communication, and adaptability skills.
They'll create an art project, enhancing their problem-solving and communication abilities.
Your team will split into groups with assigned roles, allowing for skill stretching and collaborative thinking.
The event boosts creativity and innovation, increases self-awareness, and supports the modeling of essential leadership and team behaviors.
This high-energy activity engages and connects on a memorable level resulting in a visible cultural ARTifact representing emerging leaders and laying the foundations for employee retention.
No prior artistic experience is necessary.
Creates ONE single or multi-canvas work of thought-provoking art!